Entrepreneurs hope microbes hold the key to a food revolution
Emiko Terazono (originally published on ft.com)
Start-ups are utilising bacteria and fungi to generate protein and boost agriculture.
Coming to a supermarket near you: a burger patty whose ingredients are grown from the microbes found in hot volcanic springs.
Sustainable Bioproducts, a Chicago-based start-up seeking to make edible protein from extremophiles — or micro-organisms that can survive extreme environments — is one of the growing number of companies turning to the power of natural microbes to help feed a growing population and boost agriculture.
The company, whose microbes come from Yellowstone National Park's volcanic hot springs, has raised $33m from investors including Danone of France and agricultural trader Archer Daniels Midland, and is hoping to launch protein substitutes in the US market in 12 to 18 months.
"It's an exceptionally efficient microbe which comes from a barren environment," said Thomas Jonas, chief executive. It is only in the past few decades that scientists have come to comprehend the full impact of micro-organisms, including bacteria, algae and fungi which can only be seen through a microscope. They cover every surface on earth, including the human body, and now, entrepreneurs and investors including Bill Gates and SoftBank are hoping that microbials will revolutionalise food and agriculture in the way they have transformed medicine.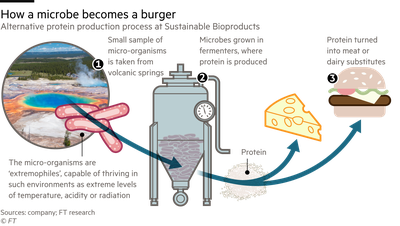 On the agricultural side, an increasing number of companies such as Joyn Bio, Pivot Bio and Indigo are looking to harness microbes, which are around the root and in the soil, to protect and grow crops. This will reduce chemicals used in farming while sustaining production yields. 
"There's a growing understanding, not just in the scientific community, that microbes are an essential part and an integral part of every living organism," said Mike Miille, chief executive of Joyn, which is developing engineered microbes to replace synthetic fertiliser.
Supported by technological advances such as cheaper DNA sequencing and high-technology screening methods, scientists can now examine microbes and how they are structured. Some start-ups then recreate them at scale through genetic engineering.
Environmental worries are spurring the development of microbials as a source of protein and food ingredients. Plant-based meat substitutes using protein produced from ingredients such as soyabeans and peas have been well-publicised, but using artificial intelligence and cutting-edge biotechnology, start-ups are now turning to high-tech fermentation to transform micro-organisms into proteins.
Feeding the world's growing population with fewer resources is a growing issue, said Mr Jonas, adding: "Are we going to have enough protein for everyone? That's a real question that everyone is asking."
Other start-ups using microbes and fermentation include MycoTechnology, which turns pea and rice protein fermented with shiitake mycelium, or fungi, into food ingredients, while Calysta, which raised $30m from BP this year and counts Cargill as an investor, produces fish food from naturally occurring microbes which use methane as an energy source.
A greener approach
The rise of microbial research in crop production also comes amid heightening worries about the environmental impact of the overuse of synthetic chemicals. Pesticides, fungicides and fertilisers used in intensive farming have been blamed for the decline in soil fertility, while the run-off of nitrogen-rich farming waste water into the sea has been widely accepted as the cause of "dead zones" along the coastline.
"We want to make the products we need biologically rather than from petroleum or fossil fuels," said Sarah Bloch, senior scientist at Pivot, whose microbial fertiliser offers farmers the potential to reduce greenhouse gases and chemicals leaching into the waterways.
Investment into crop microbial start-ups rose almost 40 per cent in 2018 from the year before to $511m globally, according to PitchBook, the data provider
Meanwhile, the microbial focus in food and agritech comes as the shale boom in the US has led to lower biofuel demand, forcing many plant biologists to use their knowhow in other areas. Traditionally this has mainly been in pharmaceuticals, but the talent has been moving to the burgeoning food and agritech sectors along with investors' funding, driving R&D into microbials. "The global implications of feeding people and the nutrition side — to be part of that as a scientist has become really exciting and challenging," said Mr Miille.
But for all the excitement, the use of microbials faces challenges. In food, these include the higher cost of production as well as consumer acceptance. On the agricultural side, new products and technologies need to overcome scepticism from farmers who have been disappointed with the low efficacy of microbial fertilisers in the past.
Microbes in soil and plants tend to be specific to certain conditions and to an area. Finding the right microbes that will work universally takes time, as well as collecting data that will convince growers that a product will produce equivalent yields to a synthetic chemical, say agricultural experts.
The time taken to get products to market can be "more pharma than farmer," said Arama Kukutai, co-founder and partner at Finistere Ventures, a venture capital firm that focuses on agribusiness start-ups. "You need patient capital."
Nevertheless, food and agricultural industries are facing increasing investor, consumer and regulatory pressure to reduce environmental impacts. 
"There are a lot of people trying," said Mr Kukutai. Especially in crop production, there is "pushback from consumers and regulators", and with the cost of launching new synthetic chemicals rising exponentially, investment is only going to increase. "People will continue to put money into microbials," he said.