The Devil wears sustainable nylon
Rachel Sanderson (FT Milan correspondent, originally published on ft.com)
Lorenzo Bertelli oversees bags made from recycled fabric after joining family group
It is two years since Lorenzo Bertelli, heir to the Prada fashion fortune, switched between the seemingly incongruous worlds of motorsport and luxury fashion by retiring as a racing-car driver to join the family firm.
But the 31-year-old eldest son of billionaire Prada owners and co-chief executives Miuccia Prada and Patrizio Bertelli says a decade spent on the racetrack is the perfect preparation for the high-paced world of luxury goods.
"You learn to fall off and get up. It was a great school of life," says Mr Bertelli of the years he spent travelling 200 days a year to compete as a professional Formula 2 rally driver — narrowly missing out once on winning a championship.
"At the beginning people said 'you are the son of…'" he recalls in his first face-to-face interview since entering the family business. "But then I won a race in the world championships and I was judged as a driver in my own name."
Marked out as the planned successor to his billionaire parents, who are 70 and 73 years old respectively, his role as head of marketing and communications will be pivotal in turning the family business round. His unexpected arrival has staunched speculation that the family could sell to a bigger rival, such as Swiss-listed Richemont. 

It is also part of a wider generational change in Europe's luxury goods dynasties. From LVMH to Salvatore Ferragamo and Ermenegildo Zegna, younger, often millennial, offspring are taking on bigger roles at their family companies.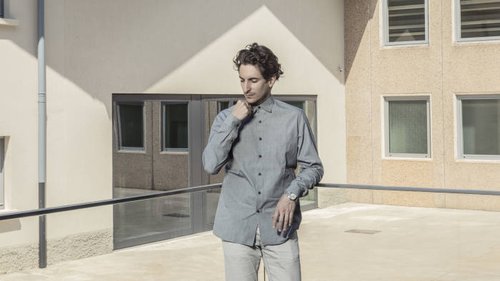 Guido Corbetta, professor of family capitalism at Milan's Bocconi University, says globalisation and technological disruption had forced a change of guard as an older generation had struggled to keep pace. 
The moves have coincided with a reassessment of the value of family groups amid a widespread collapse of faith in Wall Street-style shareholder capitalism. A recent Credit Suisse report found that family-owned companies had outperformed local peers by almost 5 per cent per year since 2006. 
"I want to continue the family business," says Mr Bertelli, who has an easy-going charm that contrasts with his aloof, cerebral mother and combative father. 

Joining the family company "was never imposed on me", he says. He has a younger brother who is a sailor and so far has remained outside the business. "I do not have a problem with taking myself out of the running if I find I am not up to the job," he adds. 
His first high-profile step towards taking over the running of Prada, which also owns the Miu Miu, Church's, Marchesi and Car Shoe brands, was to this week unveil an eye-catching push into sustainability.  
By 2021, Prada intends to substitute its entire nylon supply chain of 700,000 linear metres a year with a sustainable version. In the first instance, it is launching six bags in a so-called Re-Nylon collection made using synthetic fabric from recycled ocean plastic, fishing nets and textile industry waste.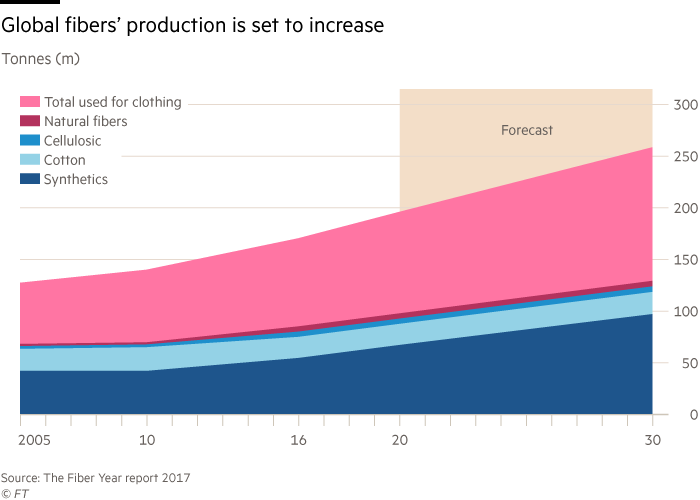 Wearing a denim jacket from the Prada menswear range and seated in an all-white cube of a Prada office in downtown Milan, he says: "Being a good entrepreneur means considering the social value first." Images from his mother's catwalk shows hang on one wall.

Prada's decision to reboot its nylon sourcing has significance beyond the ecological import. The Milanese fashion house's elevation of nylon into a luxury good defined its emergence as a cutting edge brand in the 1980s. It has been seeking to reignite that "cool" factor with consumers after several years of falling sales. 
Mr Bertelli calls the launch of the Re-Nylon products "the start of a new era", adding: "It takes time to do things well," in a reference to Prada's broader business turnround.
Hong Kong-listed Prada, which is 80 per cent owned by the family holding company, posted its first annual increase in sales for five years in 2018. But the progress has since been rocky. Slower Chinese spending contributed to an unexpected drop in like-for-like sales in the first quarter of this year.  
Thomas Chauvet, analyst at Citi, downgraded Prada to a "sell" rating this month arguing it had "failed to deliver on high hopes of brand rejuvenation". Nonetheless, he noted that on a full-year 2021 price to earnings basis shares still traded at a 50 per cent premium to the sector on expectations of a rebound in sales and profit margins.  
Mr Bertelli's role will be decisive as to whether the reboot works. With social media upending luxury strategy, communications and marketing has become the crucial department at the point of convergence between the designer, big data and the consumer. Ironically, it was his parents failure to spot the disrupting effect of technology on luxury sales that caused Prada to lose some of its grip on consumers.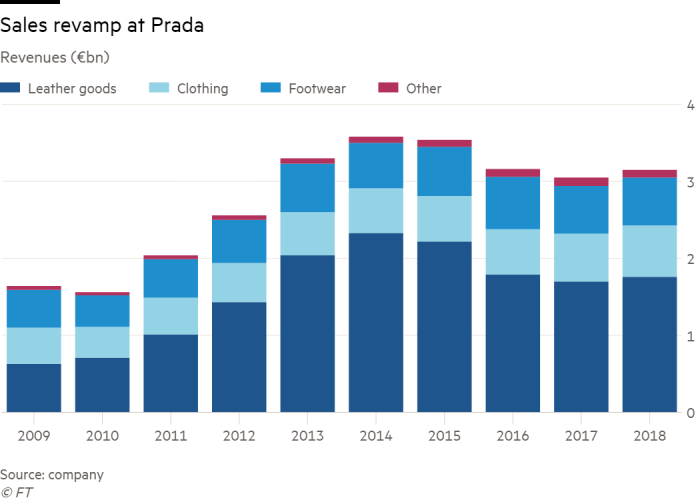 Sustainability has become a flashpoint in the luxury industry, according to consultants Bain. That is particularly the case with Mr Bertelli's fellow millennials who are driving industry growth by shopping on their smartphones for the likes of €2,000 Prada Matinee handbags and €950 Prada Block combat-style boots.
Analysts also put the industry-leading success of brands such as Gucci down to sophisticated processing of big data which gives immediate feedback on what consumers want, be it more sustainable fashion or thick-soled sneakers.  
Mr Bertelli is sceptical about being too data driven, arguing that if all the brands follow the same data they end up sheeplike, all producing identical collections. He wants to renew a push to put Ms Prada, his award-winning mother and one of the few remaining founder designers, front and centre. 
"We need to have the courage to not just make decisions that are marketing driven. You need to use insights and data to avoid big errors, to allow the creative space to create," he says.  
His latest role, he says, is part of a "comprehensive" path through the business agreed with his parents from "valley" to "summit". Although he declines to give a timeframe for when they plan for him to reach the top.
Before getting his new job, Mr Bertelli took his initial steps at the family business in another new frontier for new luxury: haute food and beverage. Prada bought Milanese coffee and cake shop, Marchesi, in 2014, shortly after LVMH was snapping up another Milanese coffee institution, Cova. Mr Bertelli says Marchesi will open 10 to 15 coffee stores in key cities. Last month, it opened in London's Mayfair. 
He says his father has also asked for his advice about Prada's product lines targeting Generation Z buyers aged 20 to 25 years old: Linea Rossa, a sportswear brand relaunched last year, and the sneakers business. 
The biggest influence from his parents, he says, came from growing up "in a house where I learnt a love of details and a love of doing things in the right way. A love of beautiful things made well". It is a quality, he argues, that is as relevant to learning about a race-car engine as to a nylon knapsack made of fishing nets.