The decade of climate bonds
Sustainable bonds are on track to exceed $1tn in 2021, according to a recent study from S&P Global. Sustainable bonds, a form of debt issuance to fund sustainability-focused goals, have grown to include the green bond, social bond, and sustainability-linked bond markets, expanding the market of financeable projects.
Since their inception in 2008, green bonds have incited financiers as a way to "do good" in the fight against climate change. Over a decade ago, the first green bond was introduced by the World Bank after a group of Swedish pension funds sought international financing support to help invest in climate-related projects. Quickly thereafter the Centre for International Climate and Environmental Research, CICERO, began serving as a scientific verifier for green bonds.
Sustainable bonds issuance rose to $569bn in early 2021, exceeding the total issuance in 2020, according to Sandinaviska Enskilda Banken AB, the first bank to work with the World Bank on a green bond.
Sustainable bonds have grown beyond solely green bonds, as originally organized by the World Bank. In 2020, the social bond market exploded in response to the outbreak of Covid-19, growing more than eight times that of 2019 levels, as reported by the International Finance Corporation.
"The good news is social bonds can help us get there," John Gandolfo, Vice President and Treasurer of the IFC remarked as a funding mechanism to reach the UN's Sustainable Development Goals, nodding to the success of $142bn in global social bond issued in 2020.
Connecting financers to the climate crisis have increased dramatically since the inaugural bond, but 'greenwashing' concerns have begun to trouble investors.
Tariq Fancy, the former CIO of Blackrock, has called "ESG", or environmental, social and governance-focused finance, a "deadly distraction." Robert Armstrong, the Financial Times' US Financial Commentator remarked that green bonds "are a capital arbitrage opportunity.", or a method of taking advantage of market mispricings.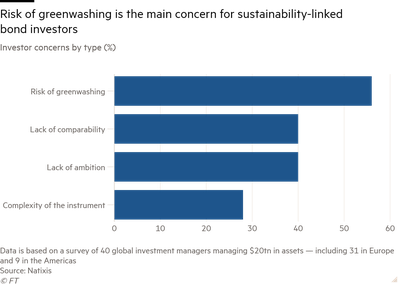 'Greenwashing' concerns have grown as ESG becomes mainstream, causing investors to question sustainability claims. In Q4 2020, one hundred and twenty-nine companies in the S&P 500 cited "ESG" during their earning calls. The enormous growth in sustainability marketing, stakeholder demand, and green labeling has led to investors doubting climate-friendly claims
Financial governing bodies have taken note, SEC Commissioner Gary Gensler told the European Parliament in early September 2021 that he has instructed his staff to "review current practices and consider recommendations" on how fund managers disclose criteria used to market themselves.
This comes after the former global head of sustainability at Deutsche Bank's asset management arm DWS, alleged that the group exaggerated claims over sustainability-focused investments.
A lack of transparency, poor data quality, and standardized regulations are massive hurdles for investors looking to adopt sustainable investing, Blackrock, a multinational investment company found. Furthermore, sustainability debt instruments have been referred to as over twenty different labels, according to the Journal of Environmental Investing, causing what some ESG experts call an "alphabet soup" of names, and only deepening confusion.
Post issuance disclosure continues to be an issue for investors as well as ESG metrics and reporting remain unstandardized. The Climate Bond Initiative, a 501(c) that aims to mobilize capital for climate-linked bonds found that only 77 per cent of issuers reported the allocation of green bond proceeds.
Despite recent investor hesitation, green bond issuances are set to continue growing. The European Union plans to issue EUR250bn in green bonds to meet the commitment of spending 30 per cent of Covid-19 funds on climate action in member states, apart of NextGenerationEU.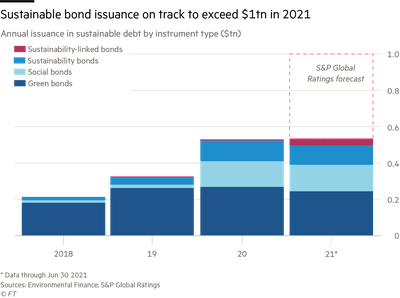 "Only a small number of economic activities are low carbon" the Climate Bond Initiative reported, saying that a majority of organisations have not yet "aligned their activities with a net-zero economy", moving insufficiently to meet the Paris Climate Agreement by 2050 with the current sustainable debt issuance offerings.
"Green bonds were the big shift in the transition," Valerie Smith, Citi's Global Head of Sustainability said to a virtual audience at the Climate Bonds Conference in early September, arguing that the sustainable finance movement changed after sustainability linked debt issuance emerged.
But, the path to transparent, measurable sustainability-linked bonds remains muddled for many investors. "They must know that they're exaggerating the degree of overlap between purpose and profits", Mr Fancy told the Financial Times, but many ESG supporters are keen to close the gap and prove viability.

Click to read Moral Money for free for 30 days, our twice-weekly email on socially responsible business.